Organic • Sustainable • Fair Trade
OUR RESPONSE TO COVID-19 HEALTH EMERGENCY
At Kerri Kreations, our number one priority is the safety of our staff and customers. As a local, fresh bakery, COVID-19 is impacting us greatly. We will now be individually packaging our cookies in order to better serve you during this time. We are paying close attention to sanitization and health safety and are adhering to the guidelines laid out by the State and Santa Cruz County Health Departments. From our hearts to yours – we thank you for your business and support!!
ABOUT US
For more than 20 years, Kerri Kreations has crafted freshly baked vegan organic cookies for happy customers throughout the Bay Area and Central Coast of California. Kerri prides herself on choosing only premium, top-of-the-line ingredients.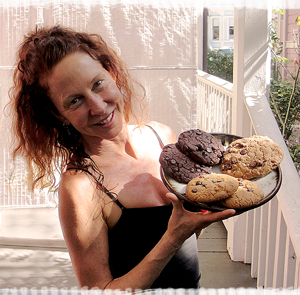 Cookie maker extraordinaire Kerri, has passion for what she does. Concocting and creating with verve for well over 10,000 hours, Kerri has turned the art of the cookie into a whole new model. We invite you to taste the difference
As a health conscious individual, Kerri is passionate about making nutritious treats that are environmentally sustainable, which is why she created organic recipes. Moreover, Kerri Kreations recycles about 80 percent of all materials while regularly donating cookies to non-profit organizations and other initiatives to support worthwhile community programs.